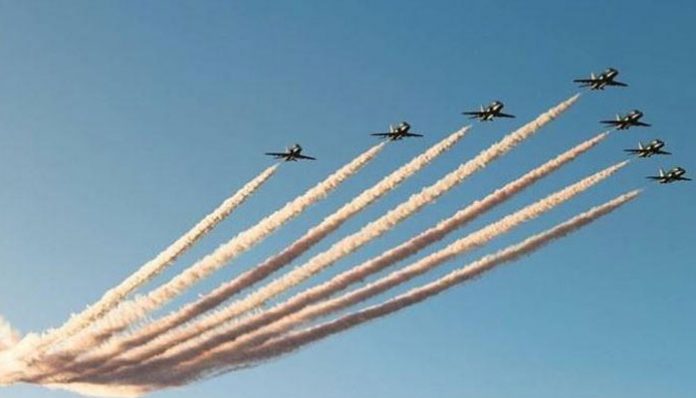 The air show will be held on Karachi Seaview on 27 February by Pakistan air force, Jf-17 thunder and f-16 aircraft will show their stunning skills in the airshow.
Pakistan air force spokesperson has said in his statement that February 27 was a remembrable day in Pakistan history.
On that day, the Pakistan air force destroyed two enemy planes. The spokesperson said that an incredible air show is being held on Seaview Karachi to mark this day.
While the Pakistan air force's aerobatics team Sherdil will also show their expert tactics.
The airstrike by Pakistan air force on 27 Feb 2019 is called operation swift retort.
This is the day when Pakistan responded to India's so-called Balakot strike in response to its custom place and time.
Operation swift retort started by targeting 6 Indian military targets across the line of control.
in repose, India sent mig 21, SU 30 and mirage 2000, 2 planes were hit by Pakistan air force among them.
Indian mig 21 aircraft debris dropped in Pakistani territory and its pilot arrested named Abhi Nandan. While Indian SU 30 aircraft dropped in occupied Kashmir, its pilot was also killed.
India claims to kill Pakistan air force f-16 aircraft to hide this defeat. Which it could not prove even today, while us officials have also denied the fake claim of India.
On completion of one year of operation swift retort, Pakistan has just presented four aircraft missiles that were shot down and dropped in Pakistan.
Missile experts have also proved by analyzing these missiles that none of the four mig 21 missiles could be fired.
In the light of experts' reports, India's claim to terminate a Pakistani plane proves to be a lie.